News
September 11, 2019
Community Focused Second Hand Store Opens in Goose Hill Schenectady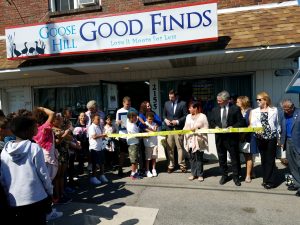 The Chamber, along with its Ambassadors, local officials, neighborhood leaders, friends, family and patrons were all on hand to welcome Goose Hill Good Finds to VanVranken Ave on the Northside of Schenectady.
Goose Hill Good Finds is a socially responsible, second-hand store that places education and community at the core of its retail mission. Owner and proud Goose Hill resident, Kristine Moore, opened her business at 2155 VanVranken Ave because the location provided an opportunity to create positive change in her community.
Occupying a recently renovated building across from Yates Elementary School, Ms. Moore seeks to bring enhanced life to this newly emerging neighborhood. Goose Hill Good Finds provides a productive space that not only seeks to strengthen the economic and social aspects of Schenectady's Northside, but also provides valuable learning opportunities.
"Education has been my passion as far back as I can remember,"​ says Ms. Moore. So, why open a secondhand store? The storefront provides an authentic bridge to the community. It's not an educational institution, but its presence and outreach support learning. She has a Masters in Education Leadership and Policy from the University at Albany and is currently pursuing her doctorate in higher education. Prior to opening her business, she worked in higher education student and administrative services at SUNY Schenectady, SUNY Adirondack, and the University at Albany. Currently, she teaches part time at the SEAT Center's YouthBuild program helping young people ages 17-24 years old complete their high school credentials.
"​Being a mother of four sons in the Schenectady City School district brought to light some on the issues that our communities and children face. As a small business owner, I have the special ability to help." ​ – Kristine Moore
Goose Hill Good Finds is collaborating with teachers and school staff at Yates Elementary to provide a 'School Store' where students can earn shopping vouchers for positive behavior. Further, the relationship between the school and store provides an opportunity to identify and serve local students and families by providing education related donations.
In addition, Goose Hill Good Finds has delivered lessons on entrepreneurship and community building in the classroom. For example, during the Summer Enrichment Program, Ms. Moore and a fiscal sponsoring organization, Voice for the Voiceless, visited Hamilton Elementary School as part of the Schenectady Foundation's "Thriving Neighborhoods Challenge". The third graders identified homeless animals as a concern in their community. In response, we were able to identify the efforts that the rescue group provides to care for rescue cats.
"The name 'Goose Hill' represents our commitment to our neighborhood, our community, and our rich history. When people hear the name 'Goose Hill' they light up."  ​- Kristine Moore
Ms. Moore is currently in contact with Arcadia Publishing to publish a book on Schenectady's Goose Hill neighborhood for the "Images of America" series. The book will contain around 200 vintage photographs from the neighborhood accompanied by captions. Anyone interested in sharing leads or items/images from their personal collections for contribution to this historical piece on Goose Hill is encouraged to contact the store.