News
February 14, 2020
Community Bank N.A. 2019 Donations Total More Than $2.6 Million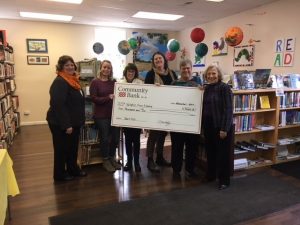 Throughout its more than 150-year history, Community Bank N.A has remained committed to giving back to the communities it serves. In 2019, the bank's annual charitable giving reached more than $2.6 million in sponsorships, donations and grants, with its branches across New York, Pennsylvania, Vermont and Massachusetts donating to more than 2,500 local organizations.
"Going the extra mile for our neighbors is a fundamental part of our values," Community Bank N.A. District Manager George Cooper said. "As our name suggests, one of the important missions of our bank is to support the well-being of the communities we serve and where we work and live. We're more than just your local teller or banker — we're your neighbors, friends, maybe even family. We want to help give our region a better tomorrow."
Each individual branch follows the passions of its employees and customers to support causes that are important to its community. In addition to awarding corporate donations, branches often host fundraisers and collection drives as a way for employees, customers and community members to participate in the charitable giving.
In the Capital Region, Community Bank N.A. supported a variety of organizations, including Junior Youth Program of Canajoharie, Salvation Army of Hudson, Zion Community Food Pantry, Valatie Free Library, NY Capital Region Hispanic Chamber of Commerce and Olana State Historic Site.
"We're extremely proud to have been able to help so many organizations last year," Cooper said. "We're honored to serve the Capital Region and be a part of this community. With 2020 underway, we're looking forward to continuing our tradition of giving back."
On top of its charitable giving, Community Bank N.A. employees also volunteer their time to local nonprofits and charities in need. In 2019, team members committed more than 10,000 hours to giving back.
Community Bank N.A. operates more than 240 customer facilities across Upstate New York, Northeastern Pennsylvania, Vermont and Western Massachusetts and has been serving its communities for more than 150 years. It has been ranked among the top 12 best banks in America by Forbes magazine since the list began publishing in 2009, and was most recently ranked tenth in 2020. For more information on the bank, visit cbnanews.com.