News
February 27, 2019
City Mission of Schenectady Unveils New Schenectady Works Headquarters to Serve More Community Members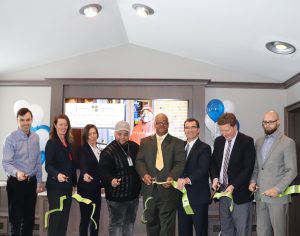 City Mission of Schenectady today unveiled the new headquarters of its Schenectady Works program at 816 Union St. The facility houses 30 City Mission employees who staff the Schenectady Works programs and features a training center, computer resource room, community events room and kitchen, coaching rooms, and administrative office space. Nearly 3,000 individuals are served annually by Schenectady Works.
Schenectady Works partners collaboratively with local businesses to provide job training, job search, and job retention services to help under-resourced men and women find success in the workplace. The program focuses on helping men and women obtain jobs and equipping them with skills that will allow them to keep their jobs, leading to long-term success as employees. The strategy is to recruit men and women looking for employment, provide job skills training, place them in a job that will be appropriate for their skillset, and then help them retain the job by providing on-the-job coaching. Through innovative business partnerships, Schenectady Works helps local men and women overcome the barriers to employment, find sustainability at work, and become leaders in the community.
The city-wide workforce development initiative has experienced significant growth since its inception in 2012 and now includes six programs – the Employer Resource Network, Downtown Ambassadors, the Career Training Center, Empower Health, Getting Ahead, and Professional Development.
"Our Schenectady Works program has had tremendous success in equipping individuals to become leaders at home, at work, and in the community. This new facility will enable us to serve more members of our community and give them the skills and the hope they need to overcome barriers to success in the workplace," said Michael Saccocio, executive director of City Mission of Schenectady.
The 7,600-square-foot building on Union Street originally served as a convent for St. John the Evangelist Church and has been vacant for the past several years. City Mission purchased the Union Street building from St. John's in June 2018 and invested in extensive renovations. The total cost for the project was $900,000.
"Schenectady ARC has had a tremendous relationship with Schenectady Works and the Employee Resource Network.  As one of the original members of the Employer Resource Network, we have found the network to be an invaluable resource for our employees. Our investment in the ERN has paid off many times in both retention and in good will. It has also become a recruiting tool, a benefit that has both a direct, tangible impact on our employees and an indirect impact by sending a message that we want our employees to succeed," said Kirk Lewis, Schenectady ARC executive director.
Eddie Polanco, a graduate of Schenectady Works who is now an outreach operations supervisor for the program, said, "I've done other jobs before but working here is different. They care about what type of employee I am, but they also care about me personally, and they help me to be a leader in our community. It has made a huge difference in my life."
Funds to support the purchase and renovation of the building were provided by Fenimore Asset Management and the Wright Family Foundation, which each donated $300,000 to City Mission. The new headquarters has been named the Fenimore-Wright Building in their honor. In addition, longtime supporters of the mission Nan and Hugh Murphy supported the renovations with a generous donation; the first floor has been named the Nan & Hugh Murphy Training Center in their honor.