News
August 9, 2018
Carubba Collision Opens in Glenville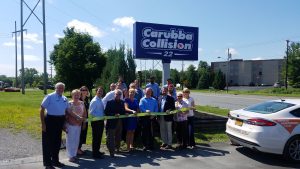 On Thursday, August 9th the Chamber, along with ambassadors, local officials, vendors, staff, friends and family all took part in a ribbon cutting grand opening for Carubba Collision Glenville. The building was previously occupied by Elmo's Auto Body. The Carubba family also purchased the Ballston Spa location. This marked shop number 16 and 17 for the company, which is based out of Rochester.
Joe Carubba, President and CEO of Carubba Collision, purchased the previous Elmo's car repair facility on Freemans Bridge Road. Don Slough, the regional sales manager, is heading up the Freemans Bridge Road and Ballston spa location.
Joe Carubba was brought into the business during high school. His father owned a small repair shop, which was attached to an American Motors dealership. Joe enjoyed the experience and started working full time out of high school. This type of work was in Joe's DNA.  His father and most of his uncles were in the business. Joe really liked how this type of business helps people and you have to be part of a team to do so. Joe is a graduate of Syracuse University and has been working in the auto body business for 37 years.
Joe was told by former owner Don Reckner that the community in Glenville and neighboring areas were friends, tight knit and loyal. This fit the Carubba Mission and culture of their existing business plan.
Carubba's prides themselves on a quality customer experience and also like to be a one stop shop for service. The have an Enterprise Rent- A-Car on site and even a free loaner program for who don't have insurance coverage for a rental. They are certified in all makes and models and their equipment and training is always up to date.
Says Joe, "Besides a quality customer service experience and top-notch quality repairs, we can provide quick solutions to a unpleasant accident. We set ourselves apart because we have the ability to take vehicles in the same day as the accident and get fast approvals, our insurance relationships let us start repairs quickly. We also have multiple locations so we have the ability to load level vehicles to one of our shops that have open capacity at any time."