News
November 30, 2022
Carpentry Students Build Holiday Joy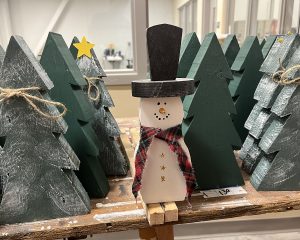 Students in the Capital Region BOCES are learning skills while being festive this holiday season.
Students in the Carpentry Services program are making and selling tabletop wooden Christmas trees and snowmen. Proceeds from the sales will fund a future project in the program.
The 10-inch tree and snowmen cost $5 and can be ordered by email Patrick.Wyman@neric.org
Students say they enjoy the holiday project.
"It's fun to make new things and learn new skills," said  Andrew A.T. Trowel, of Bethlehem, while working on a tree.
"I like the creativity and the whole process," added Tycere Jackson, who attends the program from Scotia-Glenville High School.
Carpentry Services is one of about 28 programs Capital Region BOCES offers high school students to prepare them for careers ranging from carpenters to electricians, and nurses to chefs.
There are currently 15 students enrolled in the program.