News
August 9, 2019
Capital Roots Kicks Off Produce Project's 10th Anniversary Celebration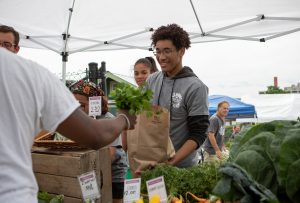 Capital Roots, a local food access nonprofit, is kicking off its 10th anniversary celebration of the Produce Project, its job readiness and life skills training program for Troy High School teens.
The first in a series of celebratory events included Produce Project students and staff welcoming guests from the Capital Region community to an open house at their 8th Street Urban Farm in Troy. They offered guided tours of the 2-acre urban farm, shared stories with former student alumni and former staff and sold their fresh produce at their weekly Farm Stand.
The year-round program, which began in 2009, provides students a stipend and educational credit—as well as a harvest share to bring home—in exchange for operating the urban farm which overlooks downtown Troy. The program was born from a growing need to provide local high schoolers a competitive advantage through basic job skills while also educating them about proper nutrition due to the inaccessibility of fresh food in urban areas such as Troy. Today, the program continues that work while growing the next generation of Capital Region leaders.
"I am so proud of our Produce Project staff who have worked tirelessly during the last ten years to create a model program that has transformed a neighborhood and hundreds of teenager's lives and futures," said Amy Klein, Capital Roots' Chief Executive Officer. "The students who have participated in the Produce Project never cease to amaze—despite coming from different circumstances, they rise to challenges, are open to learning and eager for leadership opportunities."
Produce is available for sale directly from the students every Tuesday from 4 p.m. to 6 p.m. at the farm, located at 261 8th Street in Troy. Produce can also be purchase each week at the program's stand at the Delmar Farmer's Market, Saturdays, from 9 a.m. to 1 p.m. More information on the program can be found at www.capitalroots.org.