News
November 15, 2019
BOCES Links a Pair of High School Seniors to Construction Careers with Major Area Contractor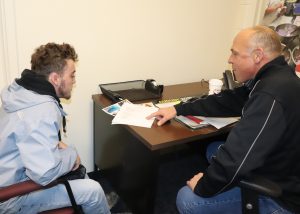 A pair of Capital Region BOCES high school students have their foot in a door of a major construction company thanks to the workforce development partnerships BOCES maintains with area businesses.
Aeden O'Connor and Justin Fancher, both of whom attend the Commercial Construction/Heavy Equipment program at the Schoharie campus from Cobleskill-Richmondville High School, have been hired for work-based learning at Lancaster Development, a major highway contractor.
"They are good kids. What I told them is we are willing to give them a shot, what they do with that shot is up to them," said Dan Corbett, equipment manager for the company. Corbett interviewed the duo Monday at BOCES.
Corbett said Lancaster enjoys a positive relationship with BOCES and understands that with more open jobs than available employees nationally – 7.5 million agencies with only 6 million able workers – companies have to mold employees.
"We work with BOCES and attract students with skills and then we have to bring them in and mold them to the employee we need," Corbett said. "Companies today have to cultivate tomorrow's employees. Companies that aren't doing this, won't be here for long."
Both high school seniors said they were excited by the opportunity given them by Lancaster, and Capital Region BOCES.
"It's pretty awesome to get this experience in high school," said Fancher.
The students aspire to careers in the construction industry – Fancher as an "operator or supervisor" in the field and Aeden in a yet-to-be determined role.
"If I get a good feel from this experience, then I am probably going to stay on and work my way up through the company," Aedan said.
"It a great opportunity," O'Connor added.
Fancher and O'Connor will be working in Lancaster's shop, doing everything from equipment maintenance to cleaning and organizing as they learn inner-workings of a major highway construction operation.
Earlier this year, Lancaster hired 2019 graduate Emily Elsis who, like Fancher and O'Connor, was hired through BOCES.
She turned her internship – working three- to four-hours a day, five days a week – into an apprenticeship thanks to the Empire State Highway Contractors Association and she is now working on the much-ballyhooed $50 million Northway Exit 4 ramp construction that will connect the Albany International Airport to the Northway.
"She is doing a great job with us," Corbett said.