News
August 9, 2019
BNI Opens New Chapter in Schenectady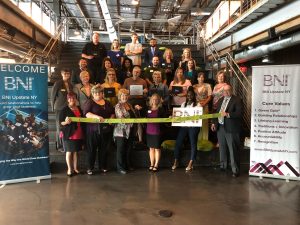 The Chamber along with its Ambassadors, BNI members, guests and supporters officially welcomed the Electric City Connectors chapter this week at Schenectady's Urban Co-Works, located at 433 State St 4th Floor. They started this new Schenectady chapter with a few people that weren't able to join other chapters because their professional category was already filled. This location was great for them because it created the opportunity to be a BNI member and it was right here in their own business community. They also had a chance as a Founding Member to choose who they wanted to have as members. This isn't always the case when joining an existing chapter.
The mission of BNI is to help members increase their business through a structured, positive and professional referral marketing program. BNI is an exclusive organization where when you become a member for a specific professional category, you are locking out anyone else from holding that "seat" in the chapter. When you become a member of BNI, you will increase your exposure to like-minded professionals, gain referrals from the members networks and sharpen your networking skills with exclusive member resources.
In addition to unparalleled business growth, BNI members develop lasting relationships that allow them to grow personally and professionally.
Through weekly meetings and exclusive resources, BNI helps you build a strong network that fuels professional growth. If you would like to visit our newest chapter – BNI Electric City Connectors, please let me know or visit our regional website at BNIUpstateNY.com. you'll see the BNI Upstate chapter list where you can go and register to visit.
Lesley Shimer
BNI Executive Director
518-466-7174
[email protected]