News
April 5, 2019
BEX Salon Opens in the Historic Stockade District of Schenectady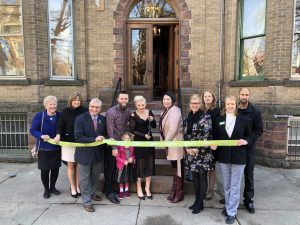 The Chamber, Ambassadors, local dignitaries, friends, family and clients were all on hand to congratulate BEX Salon on opening in the historic Stockade in Schenectady.
Rebecca "Bex" Cleary, the owner and operator, has been a licensed beauty professional for nine years and was one of the first students to graduate from Paul Mitchell Beauty School in Schenectady. It was there that the importance of a positive culture in a salon environment was instilled. After she graduated, she studied with her sister-in-law in Waterford, Ireland learning about makeup artistry at Beautyteam.
The Capital Region can expect excellence from their experience at BEX. Not only will their hair look incredible after leaving the salon, it will be a style that the individual can easily style at home. BEX offers hair products from Kevin Murphy, sold exclusively at BEX in Schenectady. Kevin Murphy uses recycled ocean packaging and only the highest grade of ingredients to formulate their products. Check BEX out next time you're in need of a cut or color!