News
November 9, 2018
Berkshire receives $50,000 donation from JLT Specialty USA after winning 19th Annual Chubb Charity Challeng
Last week, JLT Specialty USA competed against forty-five teams from across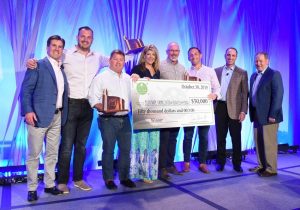 the U.S and Canada in the Chubb Charity Challenge national tournament finals in Kiawah, SC. The
foursome from JLT – winners of the White Plains/Albany, NY regional event – was crowned champions of the 19th annual tournament, and will present their winnings, a $50,000 check to Berkshire Farm Center & Services for Youth.
"Berkshire Farm Center & Services for Youth is a great not-for-profit organization dedicated to helping
children and families, and ensuring they are able to get the education they need," said Justin Riccio,
Senior Vice President at JLT Specialty USA. "Winning this money for charity is one of the proudest
moments we have had, and we are honored to donate to a cause that is committed to making a
difference in New York State. We thank Chubb for hosting this event and creating the opportunity to
give back to our communities."
This year, a total of 359 teams participated in the Chubb Charity Challenge, and more than $300,000 of
the $900,000 raised has already been distributed to charities across the U.S. and Canada.
"Justin Riccio and JLT Specialty have been long time partners and supporters of our agency," said
Carlton Mitchell, Berkshire Interim President & CEO. "We cannot thank them enough for choosing
Berkshire as their charity of choice. This will surely make an impact on the children and families we
serve.