News
June 30, 2021
Azuma Sushi Bistro Celebrates Grand Expansion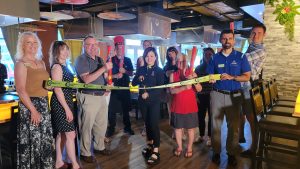 The Chamber, along with local delegates, Chamber Ambassadors and supportive friends and family all took part in the ribbon cutting for Azuma Sushi Bistro on Tuesday, June 29.
Azuma Sushi Bistro in Malta opened in December of 2019, right before the pandemic. Despite the hardships many restaurants have endured the last 16+ months, the Bistro has flourished, and has been able to expand its menu offerings, as well as its physical footprint, which now includes eight hibachi tables and an outdoor patio. The physical square footage of the restaurant has increased from 3,110 square feet to 5,858 square feet. The outdoor patio was opened last August, while the hibachi section became operational just this past May.
"I feel so fortunate to have been able to grow and expand in this way, especially during a pandemic," said Owner Briana Lin. "I am so proud of my staff for sticking with us during this difficult time to see their hard work pay off."
"It's really special that Azuma has been able to expand even as the pandemic added so many hurdles for small businesses to conquer," said Peter Bardunias, Senior Vice President, Community Advancement, Capital Region Chamber. "We know that it took a lot of effort to bring this expansion into existence, and congratulate Briana and the Azuma team on their achievement."
"I congratulate Azuma Sushi Bistro on this expansion and on surviving the first especially trying year of business," said Assemblywoman Carrie Woerner. "I have enjoyed take-out from Azuma Sushi Bistro many times during the pandemic and I look forward to trying their new menu options while seated in the expanded space."
All ribbon cuttings are sponsored by Saratoga National Bank and Trust Company.