News
February 22, 2021
ATC Community Fund Awards $15,000 in COVID-19 Relief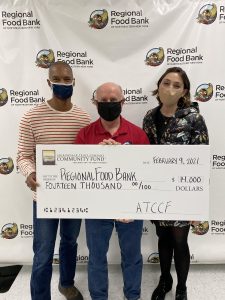 The Adirondack Trust Company Community Fund (ATCCF/Community Fund) announced today that its independent advisory committee has awarded COVID-19 relief funding to local nonprofit organizations through the Regional Food Bank of Northeastern New York as well as Christ's Cupboard Food Pantry at the First Baptist Church of Ballston Spa.
This contribution will help local nonprofits combat food insecurity throughout Saratoga, Warren, and Washington counties and was made possible through the ATCCF COVID-19 Relief Donor Advised Fund.
The ATCCF COVID-19 Relief Donor Advised Fund was created in 2020 in response to the COVID-19 pandemic. Funding for this Donor Advised Fund was made possible by generous donations made by community members.
"The Adirondack Trust Company Community Fund is thankful to be able to provide funding to these critical organizations that directly help others," said ATCCF Advisory Committee Chair Brian Straughter Ed.D. "Supporting the local organizations that provide direct aid in their time of need is important, and we are grateful to assist in their work."
Many local nonprofit organizations have seen a drastic increase in their food program demand due to the COVID-19 pandemic. According to LifeWorks Community Action's 2020 Annual Report, the number of meals provided through its food pantry in 2020 increased to over 300,000, compared to the 135,000 meals provided in 2019.
"Adirondack Trust Company Community Fund's generous donation to the Regional Food Bank to assist 14 food pantries, soup kitchens, and homeless shelters will make a huge difference for them as they continue to address the increased need caused by the COVID pandemic," said Regional Food Bank of the Northeastern New York Executive Director Mark Quandt "The Food Bank's food distribution has grown nearly 40percent since the pandemic hit the region last March, and many of the agencies we serve have experienced a similar increase in demand. On behalf of the Food Bank and these 14 agencies, I wish to express our deepest appreciation to the ATCCF for being such a valuable partner in the fight against hunger, especially at this time when the need is so great."
"Since COVID-19, our survivors have relied even more heavily on our food pantry. In the last quarter alone, we distributed more than 5,000 pounds of food to families. The Regional Food Bank is such a blessing to all our nonprofits helping those in need," echoed Executive Director of Wellspring Maggie Fronk.
The contribution will directly impact the following organizations:
• CAPTAIN Community Human Services
• Family Service Association of Glens Fall
• First Baptist Church of Ballston Spa
• Franklin Community Center, Inc.
• L.E.A.P (formerly Washington County Economic Opportunity Council)
• LifeWorks Community Action (formerly Saratoga County EOC)
• Moreau Community Center
• Open Door Mission
• Salvation Army of Saratoga Springs
• Saratoga Senior Center
• Shelters of Saratoga
• SNACpack Program, Inc.
• Veterans & Community Housing Coalition
• Wellspring
• Wilton Food Pantry