News
August 16, 2023
Anderson Center for Autism Names New Principal and Announces Promotions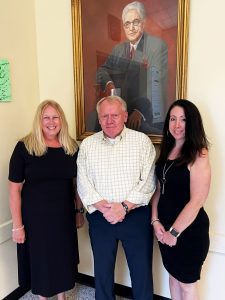 The executive team at Anderson Center for Autism today shared updates on two leadership team promotions, and also announced that it has hired a new principal.
Longtime Anderson employees Tracy Schober, MPA and Gina Williamson, MSN, were extended advancement opportunities (Schober is now Director of New Program Development and Williamson the Director of Children's Services).
Robert Wood, new to the organization, will serve as Principal of Anderson Education Center.
Anderson Center for Autism, which is preparing to celebrate its 100-year anniversary in 2024, offers award-winning, evidence-based educational, vocational, and residential programs to autistic people from all over the country.
Said Patrick Paul, CEO/Executive Director of Anderson Center for Autism, "Having a strong team of dedicated, expert professionals is really the key to our success. We are excited to see what Tracy Schober, Gina Williamson, and Robert Wood will envision and achieve in their new roles, and we are very grateful to have each of these caring, intelligent people as part of our circle at Anderson."
As the Director of New Program Development, Tracy Schober, MPA, a resident of Austerlitz, NY will lead the research and development of innovative and creative programs, along with continuing to participate in local and national outreach efforts and developing relationships with families and professionals. Over the course of her twelve-year tenure at Anderson, Schober has served as Senior Admissions Administrator, Supervisor of Medicaid Service Coordination, Admissions Administrator, and serves as Lead ECHO Facilitator.
Schober obtained a Master's in Public Administration from Marist College, a Bachelor's degree in Physical Education from SUNY College at Brockport, and an Associate's degree in Recreation Leadership from Erie Community College. She is currently pursuing a Doctor of Public Administration degree at Capella University, along with advanced and executive leadership certificates through The National Society of Leadership and Success. Schober represents Anderson on the Accessible Residential Opportunities Committee of the Office for People with Developmental Disabilities regional offices, serves as a Board member for Autism Society Greater Hudson Region, and is also a member (and now President) of the Association of Directors of Development, Admissions, and Marketing, along with being a member of the American Society for Public Administration, and the Pi Alpha Alpha Honor Society.
Gina Williamson, RN, MSN, Anderson's Director of Children's Services, earned a Master's degree in Leadership and Administration from Capella University after obtaining a BSN from Purdue University and A.A.S. in Nursing from Dutchess Community College. She is currently enrolled in the Doctor of Nursing Practice (DNP) program at Capella University. Williamson, a resident of Lagrange, worked as a dialysis nurse in the early part of her career and joined Anderson's team over seven years ago. Having started in 2016 as Nursing Supervisor for Children's Services at Anderson Center for Autism, she was promoted in 2018 to Coordinator of Children's Services, and in 2020 became Director of Health and Related Services before her recent promotion to Director of Children's Services. Over the years, Williamson has expanded Anderson's Nutrition Services program, created and chaired the Senior Care Committee, developed and implemented an in-depth Health Assessment, and helped to launch a new electronic health record, among other achievements. She also played an instrumental role in protecting the health and well-being of staff, students, and residents throughout the global pandemic by studying and carrying out Covid-related preventive care measures, working with the Department of Health, and organizing vaccine distributions with Northern Dutchess Hospital/Nuvance Health.
Robert Wood, M.Ed., who lives in Fishkill, holds two Master's degrees in Educational Administration – one from the University of Vermont and another from Stony Brook University.  The early part of his career was spent as Principal of The Green Chimneys School in Brewster, NY, where he worked for seven years before shifting to public school settings, where he held positions as Assistant Principal, Principal, Director of Special Education, and Director of Pupil Personnel Services. As the new Principal of Anderson Education Center, Wood will oversee the interdisciplinary education program at Anderson, which serves 138 individuals ranging in age from 5-21 from 53 New York State districts (in addition to districts from all over the country).
Said Wood, "It is very exciting to join the exceptional community of people at Anderson Center for Autism; I am thrilled to be here. As a leader, I see my role as twofold: first, working hard to assist every team member, meeting their expectations while maintaining a safe environment – and second, ensuring that each student receives the best educational experience possible."
Learn more and explore job opportunities by visiting andersoncenterforautism.org.