News
September 13, 2018
Amazingly Ageless Medi-Spa is in Full Swing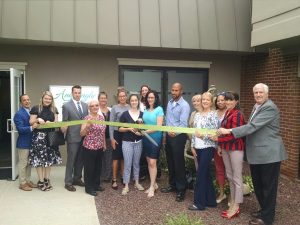 The Chamber was pleased to join Dr. Virginia Giugliano at the grand opening of her new center in Latham. Dr. Giugliano, a Board Certified Gynecologist, hopes to bring the latest technologies to women who are suffering from common female wellness issues. Traditional medical approaches have treated such issues primarily with surgical and/or long-term pharmacological solutions. Dr. Giugliano is the first doctor in the region to offer certain proven, non-invasive and natural methods to address such issues.
"Many women are under the impression that they have to tolerate uncomfortable and embarrassing symptoms or undergo significant medical intervention," said Dr. Giugliano. "Amazingly Ageless Medi-Spa delivers simple and contemporary approaches that enhance quality of life while avoiding the need for surgery or life-long medications."
In addition, the facility offers comprehensive wellness services, including individualized treatment for issues such as hormonal imbalance, nutrition and stress management, as well as traditional enhancement services such as skin care, Botox/fillers and body contouring.
Learn more about Amazingly Ageless Medi-Spa on their website at www.amazinglyageless.com on Facebook @amazinglyagelessmedispa, IG@amazinglyageless3 and LinkedIn Virginia Giugliano,MD.