News
May 25, 2023
Airosmith Development Hosts Third Annual Iron Chef Saratoga Event to Benefit Wellspring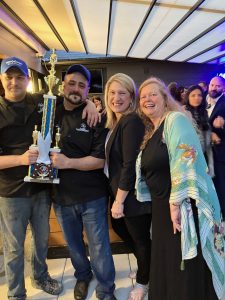 Chefs from three prominent area restaurants and bartenders from two popular local bars competed Wednesday night at Airosmith Development's third annual Iron Chef Saratoga event to raise funds for Wellspring, the county's domestic violence and sexual assault resource agency. All proceeds from ticket sales – over $32,000 – will go toward the agency's mission to support survivors and engage the community to end relationship and sexual abuse.
As in the classic Iron Chef culinary game show, chefs were given a secret ingredient and each round was timed. The competing chefs, from well-known Saratoga restaurants 30 Lake, Osteria Danny, and Salt & Char, were a new addition to this year's Iron Chef. Previous events had featured notable community members cooking and competing, including the event's creator herself, Margaret Smith-Cassier, founder and CEO of Airosmith Development and longtime member of Wellspring's Board of Directors. This year's event also featured a new specialty cocktail competition between bartenders from Spa City Tap and Barrel and Lucy's Bar.
In addition to the specialty cocktails, the 150 guests in attendance were treated to two rounds of appetizers prepared by each restaurant's chefs as well as hors d'oeuvres, desserts, a prosecco bar, live music, and the excitement of watching the chefs prepare each dish.
Attendees voted to choose the winners of the evening. Spa City Tap and Barrel was selected as the cocktail competition winner, and 30 Lake was crowned this year's Iron Chef, taking home a sizable trophy and bragging rights.
"A key part of our mission is increasing awareness about Wellspring's work and engaging our community to end relationship abuse. Last night accomplished just that. We're so grateful to Airosmith, Spa City Tap and Barrel, Lucy's Bar, Salt & Char, Osteria Danny, 30 Lake, the countless donors who helped to make this incredible event possible. The funds raised will help us continue to offer free support services and programs to those in our community who have been impacted by relationship abuse," said Maggie Fronk, CEO of Wellspring. "Airosmith's entire team did an incredible job of planning, preparing, and running a smooth, entertaining, and exciting event from the ground up."