News
January 24, 2022
A Sign of Changing Times at MVP Arena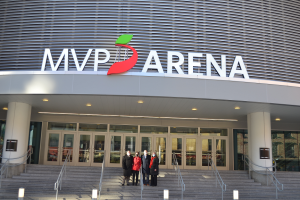 Albany's skyline has a new look as of January 21, 2022 . MVP Arena's marquee letters have been placed on top of the region's premiere sports and entertainment venue. County Executive Daniel P. McCoy and Deputy County Executive Daniel Lynch were joined by MVP Health Care's Sr. Leader, Marketing & Communications Mollie Rooney and VP of Community Engagement Ellen Sax.
MVP Health Care President and CEO Chris Del Vecchio and County Executive McCoy got a preview of the marquee letters at AJ Sign Co. before they were placed on top of the MVP Arena. (pictured).
An official ribbon cutting and an unveiling of other great visual changes at MVP Arena will take place next week.