News
May 20, 2022
Green Light Networks and the Vischer Ferry Fire Company to bring their fiber optic networks to the Capital Region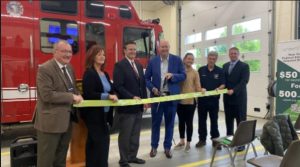 The Capital Region Chamber enjoyed celebrating a partnership between Green Light Networks and the Vischer Ferry Fire Company to bring their fiber optic networks to the Capital Region, starting with Clifton Park and southern Saratoga County.
Thank you to our colleague Tori Riley from the Saratoga Economic Development Corp for being with us this morning, plus Clifton Park Town Supervisor Phil Barrett, Stacie Agostino representing Assemblywoman Mary Beth Walsh, and Senator Jim Tedisco, for their support.
All ribbon cuttings are sponsored by Saratoga National Bank and Trust Company.