Colors of Morocco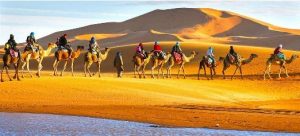 On a captivating adventure through a land of centuries-old culture and customs, discover the "Land of Sunset" and "Gateway to Africa" – the place they call Morocco.
Travel Dates: November 29 – December 9, 2020
Learn more at the free information session:
Tuesday, March 3, 2020 at 6 p.m.
Capital Region Chamber Albany Office
5 Computer Drive South
Albany, NY 12205
If you're interested in attending the free information session, please RSVP to Sharon Cutler | 518.431.1436.
Must-see inclusions: 
Explore Fes, one of the holiest Muslim cities in the world
Jump into a 4×4 and traverse the Sahara Desert to your tented camp
Board a camel and explore the desert
Culinary inclusions:
Experience Moroccan hospitality during a festive dinner at your riad
Select your own ingredients before a culinary workshop at a local women's cooperative
Click here for the full itinerary or download the brochure.
For more information or to register for this trip, please contact Jean Gagnon, Plaza Travel Center, at 518.785.3338 or [email protected].