LCR 2023 Announces Class Project
The Leadership Capital Region (LCR) Class of 2023 is excited to announce its class project with the Connect Center, a community hub for connection and empowerment for youth development programs located in Cohoes, NY. Our class will be working with the Connect Center to complete a Community Outreach Renewal & Expansion Project that will address food insecurity by improving the storage and distribution of food items to the local community at their location.
The project will provide much needed renovations and upgrades to the Connect Center's food storage, food pantry and BackPack program packing area. The class will work to bring Connect Center's spaces up to standards to become a member of the Food Pantries of the Capital District and increase the number of families served through the pantry and BackPack program.
The renewed and expanded facility will provide multiple functions:
Food Storage Area: Upgrades to shelving, furniture and other proper food storage to meet the qualifications for the regional food bank, qualifying them to be an official member of that This vital partnership will allow them to serve more families in their community.
Food Pantry: The food pantry area will be renovated to create a more welcoming space and offer more storage to serve food directly to the community. The existing area is insufficient–it doesn't have a seating area, or shelving to store food items for public
BackPack Packing Area: The BackPack program area will be upgraded to improve functionality and Currently, the packing area is not big enough and doesn't have the appropriate furniture to fill backpacks effectively. These upgrades will make the area a more efficient, comfortable area for volunteers to fulfill this part of the Connect Center's mission.
For many in the Capital Region, hunger means not knowing when, where or what you will eat next. The Community Outreach Renewal & Expansion Project at the Connect Center will directly result in more families being able to answer those questions by removing food insecurity from their list of urgent challenges. This project will further the mission of the Connect Center to "break the cycle of poverty by connecting youth to their full potential."
The LCR Class of 2023 is fundraising and accepting cash and in-kind donations from individuals and organizations to make this project possible. For information regarding sponsorship opportunities, please contact us at lcrclass2023@gmail.com or click the donate button below to make a monetary contribution to our project. Your generous support at any level will have a positive impact on families in need in our community, and it is greatly appreciated.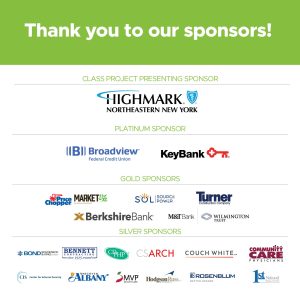 ---
Announcing Class of 2023!
Robin Aptt

Hannah Bagshaw

Kenzie Bahr

Brad Bentley

Jeremy Boyce

Michael Britton

Simone Brooks

Devon Bruce

Paul Buehler

Shelagh Conley

Sean Coons

Megan Coville

Olivia Fagan

Lauren Ford

Scott Fulk

Zachery Gohl

Kalotta Hemmingway

Trevor Johnson

Tonia Lehoisky

Kaitlyn Lounsbury

Amanda McDonald

Maeve McEneny-Johnson

Leigh McEntire

Tracy Menges

Meghan Meyerson

Kristi Milligan

Maureen Nicholson

Cornelius O'Connor

Robert Pape

Tara Poulton

Phillip Quindara

Nora Ritinski

Mayra Rodriguez

Jennifer Rudolph

Aileen Schatz

Amy Sonder

John Sutphin
For additional information about Leadership Capital Region, contact Sami Gowan, Senior Program Manager, at sgowan@capitalregionchamber.com or 518.431.1414.