Business Library
Seek Out Your Staff's Disabilities – and Strengths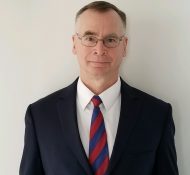 Chip Richardson - Instructor | Griffin Gorge Associates
You are a leader, commanding your team through the difficult times we are always in. Your skills will bring them to achieving new heights for your business or organization.
In building your staff, you must select people based on their ability to contribute to the team effort. No person is the perfect over-achiever for all the skills needed for your team, including yourself. Instead, we are human beings with strengths and flaws. You, as a leader, need to build a team that brings the talents of many individuals together to accomplish your mission.
A key point in building a team, is to spot the individual's talent and find ways to work that into your team's actions. You also need to spot their limitations, in order to make adjustments.
Many people have disabilities and some of them are obvious; some are not.
Working in a home improvement store in Freehold, NJ was a guy named Jim. Jim was in a wheelchair. He weighed about 90 pounds. He had straps to keep his legs from flying out when he wheeled around corners. When you observe Jim you are hit with the realization – Jim probably cannot walk.
Jim was fantastic at his job. Independent contractors were hired to install various items for the customers. Salesmen made the sale, then Jim did the coordination for the installation. He was a master at setting expectations for the customer and ensuring quality work from the contractors. Anyone in the business can attest this is a tough job to master. Jim made the store a lot of money.
Gary had a disability that was not as noticeable. As it happened, Gary worked in the same store with Jim. Gary worked in the hardware section. He was an encyclopedia of knowledge. His mechanical ability was unsurpassed. His work on the selling floor talking to the customers was a pretty good deal for the business.
A customer came in once to ask for a particular and strange item. Gary asked him what it was for. The customer stated he had an old printing press he was trying to revive. Gary's eyes lit up and asked if it was an old Heidelberg press. The customer said yes and Gary was off to the races. He asked what year it was made. Gary found exactly what the customer needed and discussed, in great detail, about some other things to look at when fixing it up. Gary performed feats like that several times a week.
However, Gary was not good with any type of pressure. You could not ask Gary to complete a set of even moderate tasks with a deadline attached.
The sales force was required to meet goals for selling maintenance agreements and getting credit card applications. Gary was given special dispensation to be exempt from this performance measure.
The store leadership learned to work with Gary and his disability.
You would not ask Jim to run up the stairs – that would be cruel to ask a wheelchair bound man to run up the stairs. You would never ask Gary to meet a deadline – that would be just as cruel. You could never "train" Gary to overcome his disability.
Jim and Gary made significant contributions to the company over the course of many years. They complimented the team with their individual strengths. The company complimented them by providing an avenue for them to use their talents to make a career. They enjoyed coming to work, having found a place that accepted them. I never met a business that suffered when employees enjoyed their jobs.
Learn to spot someone's disabilities in an effort to work with them to be productive team members. You will find your business grows while providing a member of your community a fruitful life.